About me
I am a Swedish freelance photograper living in the very south of Sweden. But I am also a world citizen, I have been travelling a lot as a photograper and still do. Mostly i go to India, tree times a year. I also organize photography tours there. I have been a professional photographer for the main part of my life. I was educated first at Christer Strömholms Photography School in Stockholm, and than later on at the University for Photographers in Gothenburg. Mostly I work for magazines like Hus & Hem, Allt om Trädgård, Drömhem & Trädgård, Lantliv, DN Bostad, SvD Magasinet, Gods & Gårdar, Gård & Torp etc. I have also been making nine books together with authors. Books like Österlenska Trädgårdar, Sannas Likörbok, Sannas Kokbok, Hannas och dom andra, Sannas Köksträdgård, Äppelriket, Torpdrömmar. Me and the author Mona Wembling have published a book called "Natursten i trädgården" a book about stones and plants in the garden. I also make images for web- pages. And take pictures like portraits, weddings etc. I have a long experience as a photographer. So just ask, nothing is impossible !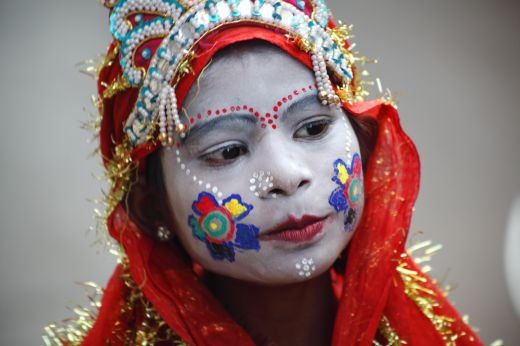 A portrait of a child dressed and painted to one of the important Gods. From Pushkar camelfair 2016
I am a big fan of the country India. A country that I visit regularly. And I also arrange tours to India tree times a year. You can read more at www.aaberg.se

Welcome to contact me !
Anette